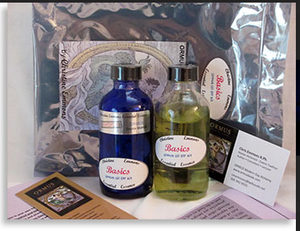 It's Here!  From Emmons Essential Essence, the Basics DIY Live Oil Kit. Make ORMUS at home simply and easily. No messy chemicals. Safe and simple, the easiest way to make Ormus.
     The Egyptians knew the secret to health, healing, and happiness thousands of years ago. Now you can, too. Unlock the secret of the Ancients in your own home!
     You too can live like Royalty in a few simple steps! Christine Emmons demystifies the magic! All Natural and Organic. Made from 100% pure grape seed oil and Emmons Essential Essence certified Ormus bearing  Himalayan salt. 
      Apply it to skin irritations or rub it in to relieve aching muscles-penetrates deep.  Excellent as an evening facial preparation or use it during the day to protect and moisturize dry skin. Many "drizzle" over their favorite foods to get their daily dose of Ormus.  Couples love it for a sensual message.  Order Today! Nothing to lose. Your life to gain.
Basics DIY Live Oil Kit-$48ea
Shipping Internationally in multiples of 2 kits, Daily USPS Priority International Air Service
Read more…
Overseas & International-Air Service to all Countries is flat rate, up to 4 lbs, United States Postal Service, Priority Mail International Guaranteed-$39USD.  Should you wish to combine items in the store please  inquire by clicking here.