About Face~ics
International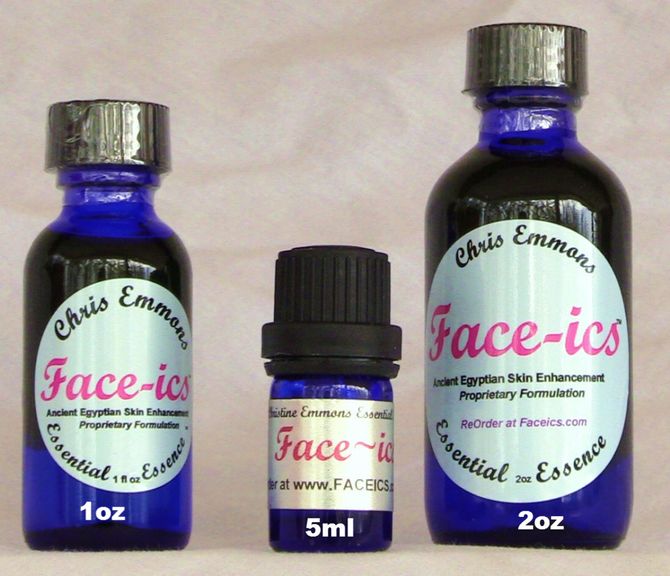 What is Face~ics ?
Face~ics is an Ormus infused skin elixir whose formulation follows ancient skin enhancement protocols.  Offered exclusively by Emmons Essential Essence Face~ics is made by Chris Emmons /pharmacist using the once lost secret knowledge of ORMUS and its collection processes. 
Within Face~ics are trace mineral nutrients, in the form that skin easily absorbs, as well as specially chosen nourishing lubricants.  Because they are ultra-fine, these moisturizers are natural, organic compliant, light-weight and do not leave an oil feel.  Selected due to the ability of allowing pores of the skin to breathe, they naturally have Ormus content and are further Ormus-imbued.  Aloe is added to provide nutrients and minerals without giving the skin a greasy feel.  The ancient Egyptians called aloe the "plant of immortality". 
Well-fed skin presents as Bright, Dewey, Vibrant and Younger-Looking.  As a Pharmacist, Face~ics has been formulated to feed your skin minerals –an easily absorbed unique category of minerals.  The medium which carries the mineral nutrients into your skin is a special blend of extraordinary oils suffused with Ormus.  This blend offers; A great absorption rate; Nutrition for the skin and are lightweight to the touch.  Testimonial after testimonial show how Face~ics works wonders. 
While creams and lotions have been around for generations, there is a secret about them that caused beauty trendsetters, like Gwyneth Paltrow and Emma Stone, to choose natural face oils.  As a pharmacist I share this secret.  PS: It will make you happy you use Face~ics. 
THE SECRET IS:  No Thickening Ingredients! 
You see, creams and lotions are formed by adding thickeners.  A cream is mainly oil and water with wax added.  A lotion basically changes the amount of wax and water.  Common waxes include paraffin's and beeswax.  To firm up the product, thickeners are added.  Thickeners include gums, gelatin, silicates -and there are a lot of chemical-based thickeners (horror).  The problem is that thickeners can cause trouble when placed on the fine skin of the face.  First off, thickeners, especially the chemical ones are actually absorbed by the body.  Next the thickeners fill up the pores in your skin. But pores need to shed the sweat and natural oils that are made by the body.  When pores clog, small bumps form under the skin and the skin looks uneven.  The skin looks dull and pimples can even form.  Consequently, for the smaller pores that are on your facial skin the best choice is Not to use a cream or lotion base.  Rather choose a base made from good natural light-weight oil(s).  This is the way to go and how Face~ics is made.  With Face~ics pores in the face remain open and vibrant because no binders or fillers are present-as with lotions and creams.  You should receive nothing but the best for your facial skin. 
Quality natural oils do not clog and they themselves can add essential nutrients to the skin.  Natural oils, applied topically, that contain essential fatty acids actually feed skin.  These essentials are building blocks, absolutely necessary in the diet, and when applied topically help keep your skin healthy.  The lubricating oils in Face~ics have these nutrients. 
Face~ics is also filled with a unique category of easily absorbed nourishing minerals.  Minerals carried to the skin in this way provide vital building blocks the skin uses to maintain and restore itself.  Face~ics holds a fantastic blend of these minerals nestled among the most exquisite nourishing light weight natural oils.  Because there are No thickeners you shake the bottle of Face~ics with each use to manually mix. 
You can always expect the best from Face~ics. 
While Face~ics is not recommended as a sun blocker, Barry Carter, flag bearer of Ormus, mentioned that his skin was less likely to sunburn.  The reason for this is that the quality nutrition provided to skin allows it to quickly restore from onslaught from stressors, even as they occur, such as rays of the sun, wind and airborne micro-dust particles.  (Since olden times it is always recommended to wear a brimmed hat when you plan to be in the sun.) 
Because your skin is nourished, able to better restore itself and hydrated: Face~ics diminishes fine lines, wrinkles, tightens pores and causes skin to be silky, smooth, brightened, radiant and younger looking. 
As you put your best face forward consider applying Face~ics to the skin under the jaw-line and your décolletage area.    The beauty industry refers to décolletage, pronounced dei·kow·luh·taazh, as the neck and chest.  It is the area frequently on display, especially when unbuttoning the top button(s) of a shirt or wearing V-neck tops. 
You have an exceptional facial formulation in Face~ics.
 Here is One of the many Testimonials for Face~ics-  
"When I first tried Face-ics, I wasn't sure what to expect. I have always been the kind of person that takes care of their skin. I use specific cleansers, lotions, and creams that help my skin look and feel, soft and radiant. As I have gotten older, I noticed that certain products no longer agree with my skin. My skin has become very sensitive, as I have developed a mild form of Eczema, which made it difficult to achieve the glow I was looking for. I took a chance in trying Face-ics, because I was unsure how my skin was going to react. I took the 7-day Face-ics trial and much to my excitement, not only did I not have a negative reaction to the product, but, I also found my long-lost radiant skin! The product went on very neatly and smooth, the instructions were very easy to follow, and just a little bit of the product goes a very long way. I am very happy to say that now Face-ics is a part of my regular daily routine!"-- Anissah 
Face~ics is applied in usually 4 to 8 drops, testimonials affirm that the face displays vibrancy and brightness within days or less.  
     
Face-ics is designed for use on the face where its skin combats daily stressors; sun, wind, smog, dust, traffic fumes; even heat and cold.  Face-ics beautifies as it hydrates the skin, diminishes wrinkles and by conditioning the face allows for radiance, a luster and visual appearance of clarity.  
   
While attendees at the Key Largo Ormus Group gained knowledge about Ormus and how to collect it for themselves, this formulation was created during 2016, so they may also experience Ormus benefit first hand.  Face-ics is now available to all at EmmonsEssentialEssence.com and Faceics.com  
Testimonials report that folks have even stopped using make-up after beginning Face-ics citing a healthy glow that does not require cosmetic improvement.  Others comment that they actually feel their face wants Face-ics on it.  
Face-ics is an amazing Ormus based topical: Brightened radiant skin with luster and visual clarity, a face that looks younger.  Look Better = Feel Better!!  
This all natural facial revitalization formulation is provided by Chris Emmons R.Ph; pharmacist and well known author of Ormus-Modern Day Alchemy. After many years studying the subject of ORMUS, Emmons learned an ancient formula which she boosted in multiple ways; using not only the finest ingredients but enhanced Ormus collection principles.  
Because of the many steps required during Face-ics formulation, some quite specialized, combined with the time required to complete the Work, Face-ics is not an Ormus product suited for do It Yourself.  Emmons Essential Essence is happy though to share Face-ics beautification skin elixir with you.
Testimonial from Wendy with response from Chris:  
"I have been using the Face-ics oil blend and I love it! It smells soooo good, and I feel like it's so good for my skin. The Frankincense in it is divine- it smells amazing on my skin; and I can tell my skin loves it because it immediately sucks up the oil/lubricants- within minutes. I feel like I'm really pampering myself. Thank-you so much for all the care you put into this product. I love it! Thank-you Chris!                                                            -Wendy                                                    
Chris- 
You are welcome Wendy…. I am happy for your experience w/ Face-ics. Certainly designed a topical facial formulation meant to be the best on its kind…not realizing it was one-of-a-kind!  
This topical facial was created to Show participants at the Key Largo Ormus Group the Ormus-effect first-hand.  
I had never provided Ormus at the groups get togethers since I believe newcomers should have first-hand experience in their own home.  Some folks get sleepy and some get energized: It all depends on their physical, mental and emotional state. Some get sleepy because their body needs repairing and this work is best done when sleeping.  
After years had gone by, and after I was told I was doing a disservice to those who attended, I thought that a topical Ormus-based item would be ok and the Ormus experience beneficial to attendees.  
So I made the most energetic Ormus-based topical -I knew it had to be exceptional so participants would stop and turn heads towards learning about Ormus.  
In 2017 Ralph Kinsley offered to make the EmmonsEssentialEssence.com website to house Ormus Academy and Face-ics was offered to the world at that time.  
Let's see,  
-The mixture contains Exquisitely-fine lubricants, specifically chosen -having Ormus naturally, organic compliant, light-weight, nourishing; Permeated with Ormus m state via steeping; in mix of Sea Salts, Special Ormus, Aloe, A Particular Frankincense Essential Oil, Quartz Crystals… ((Rivae species of Frankincense is rare, highly sought after and considered indispensable to Frankincense scent enthusiasts.)  
-Immersed under Full Moon; next to rural forest; over Gold plated Flower of Life grid; Images of folks having a pleasant time; "As Above So Below" outline...  
-Radiant-frequency enhanced; suffused with beneficial Solfeggio frequencies; sent to the Aether via Frequency generator; linked with Powered Super Mobius Coil; Quartz crystal…  
-Face-ics is buried-under-the-ground; in rural forest; Amid Orgonite; Pyramid Energetics; burned white ash; one lunar month…  
-Bottled in cobalt blue glass; Frankincense rivae Essential Oil; Dropper. (Glass is preferred since oils in plastic bottles can intermingle with oils in the finished work.)                 –Chris  
Chris (Emmons), pharmacist, author Ormus Modern Day Alchemy  
Visit at the following locations-  
Facebook: Ormus-A Page for beginners  
Facebook: Ormus Academy  
Facebook: Emmons Essential Essence  
Website: EmmonsEssentialEssence.com -Ormus Academy & shop
View beneficial effects of Face~ics in this Aura Study on Human;
20 minutes after Face~ics application.  
Below are aura images of 4 volunteers who participated in the Aura study using Faceics Ormus-infused beautification skin elixir, 20 minutes after application, March 2017.  The study, created by the Key Largo Ormus Group was designed to observe change that may occur in a body after topical Ormus. Face-ics, an Ormus based product from Emmons Essential Essence was used in the Aura Study on Human.  
Included is the Aura foto of the Face-ics Ormus based product.   
The study was composed of 25 volunteers –here are before/after aura images of four of the volunteers.  The full report is located in Ormus Research: Aura Study on Human 
The face is first washed clean. Then an aura image is taken with an aura imager camera.  After this, Face-ics is applied to face and neck.  20 minutes later a second Aura foto is taken  
Award winning Atena Komar, aura photographer, 15 years in photo and Aura analysis reviewed the fotos.  The volunteers were unknown to Atena.  The camera designed to focus on head area.  
Aura, said to be an electromagnetic field around the body, reflects our inner state.  It also interacts with anything that comes in contact with the body.  The basis of the aura review is to observe change from interaction between a body and topical Ormus.   
All matter, living and non-living is composed of atoms.  The subatomic particles contained in atoms are always in motion energy.  Some say the aura that emanates around the body is an electromagnetic field and others that it is the presence of superconductor activity in the body.  A Meisner field always surrounds a superconductor.  Frequencies display in the aura of a human body as color, and patterns of color.  The expression of the aura points towards the level of vibrancy and harmony in the mind and body.  Does applying Ormus affect change in an Aura?   
Aura images are taken with a specially designed camera that captures the person's aura which emanates from the body.  Taking aura fotos before and then after topical Ormus application can easily display evidence of change.  An aura imager camera works by taking a double exposure of the subject, first a standard photo followed by an aura foto which are then superimposed onto each other.  

Summary of Aura study using topical Ormus: Faceics:
 "It has been shown through the study you had, with many people, that on everybody, Ormus brought everybody to a much more focused peaceful existence -and that's just in 20 minutes after.  I would love to see a long term study"          
                                                                                                                                                                                                                                   -Atena Komar  
Each volunteer's aura foto displays distinct, vivid, and positive change after Face-ics.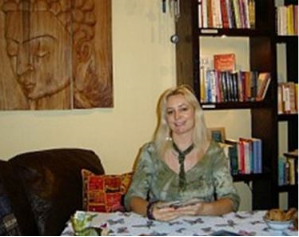 Aura Reviews: Face-ics topical Ormus infused skin elixir