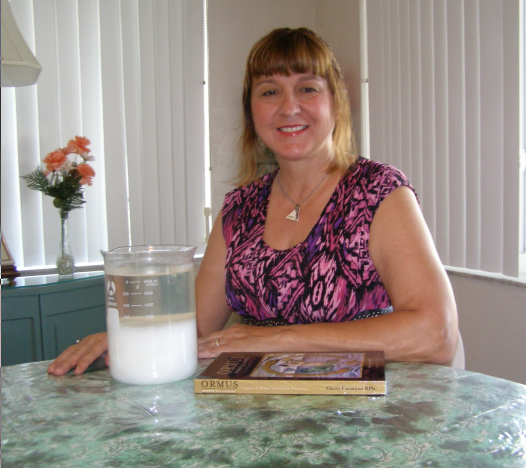 Chris Emmons is a pharmacist who during 2004 began supplementing with Ormus and sharing it with her pets, and plants.  She observed the most wonderful improvement to health and state of being. This she also saw in her companion bird, houseplants and trail horse. Ms Emmons researched Ormus and Ormus researchers mentored and taught her methods of its collection.  Feeling tremendous Gratitude, she remains available to help others learn about Ormus and how to collect it.  Chris has said that she is here -if only for the one. 
Chris was asked to write a book describing Ormus and processes of its collection.  That book is Ormus Modern Day Alchemy.  It has become standard for Ormus seekers and the Ormus collecting community.  It contains Timeless information ….never out of date and available at OrmusBook.com, EmmonsEssentialEssence.com,  and Amazon. 
Chris began the fellowship of Ormus Groups where seasoned and newcomers alike can come together for sharing and learning. 
During 2016, in conjunction with Ormus Groups, Chris Emmons prepared Ormus formulations which became part of the 2017 Emmons Essential Essence product line.  Featured are flagship creations; Face-ics, the highly beneficial and energetic Ormus for the face, and Discovery in Action Ormus, harvested through time-honored processes from a prized Ormus source material.  Each prepared in her laboratory from the finest, purest and highly regarded ingredients.  Face-ics was initially developed to offer attendees at her Local Ormus Group the hands on experience of an exceptional topical Ormus as they learned about Ormus and how to collect it.     Now these Ormus items are available to all.   
Visit EmmonsEssentialEssence.com for Ormus information; Get the Ormus Modern Day Alchemy book, Order Emmons Ormus products and Join Facebook page: Ormus-a page for beginners where All questions have merit. When you are ready, begin collecting Ormus yourself. 
Chris asks that you Learn much & Share Ormus information with others. 
EmmonsEssentialEssence.com 
OrmusBook.com 
Faceics.com 
OrmusGroups.com
Fruits, Vegetables, Flowers, Nuts, Animals all benefit from Ormus. 
Procure Ormus now.       When ready begin Ormus collection yourself.   
 Note: All material in this publication is provided for information only and may not be construed as medical advice or instruction. The information is presented for educational purposes only. Information is not intended to be a substitute for the medical advice of your health care professional. The information contained has not been evaluated by the Food and Drug Administration. Information is not intended to diagnose, treat, cure or prevent any disease.  All information is for research, experimental and informational purpose only. No health claims are made.