Testimonials-0rmus Modern Day Alchemy by Chris Emmons
Trying to get this information on a paper by paper basis would be financially ruinous as well as maddening -it also can never duplicate all the information with explanation found in Ormus Modern Day Alchemy.                               Chris Emmons R.Ph. 
"Thanks Chris! Your book is still the number one reference on modern alchemy and ORMUS. So proud to have gotten the chance to work with you...."   Dennis William Hauck   
                                                                                       Author: The Complete Idiot's Guide to Alchemy;  
                                                                                                The Emerald Tablet:  
                                                                                                Alchemy for Personal Transformation; 
                                                                                                Sorcerer's Stone: A Beginner's Guide to Alchemy;  
                                                                                                Secret of the Emerald Tablet; 
                                                                                                Alchemy Workbook; Alchemical Meditations CD; 
                                                                                                Alchemy reference Guide;  
                                                                                                Alchemy Study Program 
Karl Reinhart said: "Yeah, buy the book! There are sales and then there is the truth.. This book is essential to answering your questions about Ormus and it is my opinion that you need this book to get started in ORMUS unless you feel like pestering entire groups already long into the evolution of the process with the general questions most people have.. how is it done?, what is it good for?, how can I make it?, etc... Ormus is nothing less than a college education that ranges in subjects they don't generally teach in college. This book is your first and most essential introduction... I make nothing from the sales of this book. What I am saying is a fact that you will later come to appreciate. You will thank me later :) " 
I have just finished reading the book for the second time. I think if people with questions read the book, they'd not have too many questions "left." I am still reeling from the magnitude of information it holds. This is not "just a book." It's a gift. So, thank you Chris Emmons for all your hard work and "care." And respectfully, thank you Ralph Kinsley as well.                                                                                -Eira Wulfnothsson 
The easiest way for me is was the Wet Method to make c11 Ormus. There are tons of videos and tutorials online to do it but I bought the Ormus book by Chris Emmons and having the book puts all the information right in front of you. I've made Ormus multiple times following the steps right from the book. A great resource the book is..               
                                                                                                                                                                                                                                   -Clinton Edward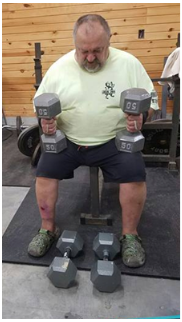 …I have been taking Ormus for several months. I'm making my own Ormus now!!I bought Chris Emmons book and was Excellent!! In my opinion Ormus does work!! I have been lifting weights for a long time (power lifting) and lm almost 70 yrs old I can still pump some heavy weight people asking me in the gym what I'm taking and I tell them I'm taking Ormus. I have seen a lot of improvement in my strength. I hope in a year I'll be able to compete with the young guys again!!!LOL!!! THANK YOU ALL           
                                                                     -Evangelos Moschovis  (Photo left)
I'd like to take this opportunity to say that although I am only in the very early stage of reading your book, I Do think already it's The Most Amazing & informative book I have found.   
The Introduction alone was Very moving & has given me a Much Greater Respect for the rest of the information within this book that I am yet to read….  
Although I have Not even read this first book, I ask if there is a Second volume because I want to be Prepared/Well Read & Ready to Correctly inform Others of The Great things that Ormus does & has done for me over the past 18 Months.  
I know of many that Need to Know Ormus , Maybe Even more Urgently than myself.  
Some are Loved ones & some are not  
They don't know Ormus,  
I am So Grateful that I do, I almost feel Gifted from Finding & Progressively Knowing Ormus.  
At First I thought I Can Help these people & I sort of feel it's like a Duty of mine to Do just that,  
With the Best and Happiest of Want to Do just that…  
Chris Emmons, Barry Carter , Ralph Kinsley & Others  
I Thank You All for Helping Me Know Ormus Better So I Can Help Others Know Ormus Better. 
"Gus"   (Photo above)
"I love the book i have it at home and found much good information in it."     Laura Scheerder   

"This is dedication Man. On my bed, Chris' Book. "ORMUS Modern Day Alchemy". It's always open and I'm always learning…."  Thomas Adams 
"Dear Chris Emmons, I am contacting you because I read your book "Ormus". Excellent research work and probably one of the most important publications of contemporary alchemy. A light in the pathway of those who tread alchemy."    Jose Carlos Calazans 
"I have a copy of this book! I have had it for ten years! If you are serious about Ormus and it's processes buy it! It is truly one of a kind"        James Bourland 
"Hi Chris, I just now received _The Jewish Alchemists_ (bought on eBay per your recommendation in the Ormus book) and I am very excited to have it join all my Western (started with Jung and Von Franz but got to Waite and Regardie and original works) Alchemical Library!   
At the same time I bought your book, I also purchased some commercial Ormus, which I have enjoyed so far but of course looking forward to making my own!     
Just wanted to get in touch and let you know I am about to embark on this seriously!  Thanks and I appreciate all your research in getting me started!"        
Peace, Chris"                                      Chris Kovan
Rereading the part of your book about making live oil was most enlightening. It is/was like what your pins say, "It's in the book." Lots of good info there most of which I did not absorb and remember from the first read through.  Yeah! for Chris's book and all the effort she put into it.  Naturally, that has promoted me to reread other portions of that "masterwork."  Glad I own one and am thinking about at least one friend who ought to be eager to read it and own a copy of their own. They have been working with essential oils and would like to become an apothecary.
                                                                                                                                                                                                                                                          David
 "Chris is a really trusted source of great info I always bring her book out when I am thinking of making some Ormus ."                                                                                                                                                                                                                                               Kathy Orringe                                                          
                                                                    Click Here-Return to the Store-Buy the Book Now
Fruits, Vegetables, Flowers, Nuts, Animals all benefit from Ormus.  
Procure Ormus now.       When ready begin Ormus collection yourself.