Aura Study on Human
Personal author Chris Emmons, R.Ph. 
With assistance from; Key Largo Ormus Group
[Authors Note: This is a pioneering report of aura comparison on a human body before and after topically applied Ormus.  The report displays an important aspect of Ormus which warrants further study.] 

An investigation was made to determine if effects from topically applied Ormus could be detected by comparing the variation of response using an aura imaging camera.   
  
Below is a collection of the before and after Aura images with detailed review.  

During March 2017, twenty five volunteers participated in the Ormus Aura study designed by the Key Largo Ormus Group.     

The study used Face-ics topical Ormus-infused skin elixir by Emmons Essential Essence. In the study, the face was first washed clean then an aura image is taken using an aura imager camera.  Face-ics was applied to face and neck and 20 minutes later a second Aura foto was taken.  The two aura images were then reviewed by award winning Atena Komar, aura photographer, 15 years photo and Aura review.   

The volunteers were unknown to Atena; the camera designed to focus on head area.  

Aura, said by many to be an electromagnetic field around the body, reflects our inner state.  It also interacts with anything that comes in contact with the body.  The object of the study is aura comparison on human body before and after topically applied Ormus to observe possible change. 

Subatomic particles contained in atoms are always in motion energy and all matter, both living and non-living is composed of atoms.  Since the energy in atoms has been linked with the light absorbing, light emitting electromagnetic spectrum, a generally held belief is that the aura is an electromagnetic field.  Others disagree, explaining that the occurrence of an aura is caused by the presence of superconductor activity.  If this is the case then the aura is the field of energy which always surrounds a superconductor; called the Meisner field.   

Frequencies display in the aura of a human body as color, and patterns of color.  The expression, characteristics that are seen within the form, of the aura points towards the level of vibrancy and harmony in the mind and body.   

Does applying Ormus affect change in an Aura?   

Aura images are taken with a specially designed camera that captures the person's aura which emanates from the body.  Taking aura fotos before and then after topical Ormus application can display evidence of change.  An aura imager camera works by taking a double exposure of the subject, first a standard photo is taken followed by an aura foto.  The two are then superimposed onto each other.  
Summary of Aura study using topical Ormus   
"It has been shown through the study you had, with many people, that on everybody, Ormus brought everybody to a much more focused peaceful existence -and that's just in 20 minutes after.  I would love to see a long term study"                                                                                                                                                                                                                                                                                -Atena Komar Komar  
Each volunteer's aura foto displays distinct, vivid, positive change after topical Ormus.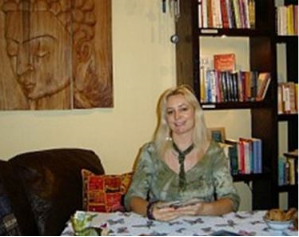 Aura Review: Topical Ormus
(Left) Aura: Face-ics topical Ormus-infused skin elixir
(Above)  "Looking at the Faceics [topical] product aura foto:  Faceics product is showing a very bright aura where you can barely see the bottle.  The aura in middle white (spirituality) color with the healing energy of green (Health) coming in from above so I would say this mentally heals on the physical level but it also brings up the spirit and brings up the emotional system to bring out that inner child energy.  The indigo towards the bottom would indicate a lot of the focus that we have been seeing throughout the study with this product.  It's all in the bottle so you can't really avoid the focus factor at all, it's there.  About healing energy (green), it is a healing product so I would fully expect that.  Overall I would say this is a benefit for anybody who uses it and focusing on their life purpose, their goals and whether it's a child a person an animal or a plant, they all seem to benefit from using this product.  It is a benefit; everybody's energy has been tremendously increased and showing a much focused and more peaceful existence so I would say yes it definitely has benefits and this is just in 20 minutes so I can imagine what you would do in a week"                                                                                                                                                                              -Atena Komar, 15 years photo and Aura review
Aura Reviews: Before/After topical Ormus