Part Three:
Ormus Material and Chemical Behavior, search for m state
Personal Author Chris Emmons,  R.Ph.  
With  usage notes furnished significant Ormus contributors since 1993
As detailed in the article m state, this state of material is more refined.  The particles, almost unimaginably small; are spatially three dimensional in their own dimension, occupy space and have specific energy etc…. They exhibit all the characteristics of our much larger world but are simply much more refined to the point we cannot generally see or measure these substances using our equipment. In other words, Ormus has one foot in the Ormus world and one foot in our world. 
All dimensions are physical, and consist of the building blocks, and matter of that dimension.  However larger dimensions cannot see or even detect or accurately measure much of the energies, and the energy substances, from the more refined dimensions.  That does not mean however that some if not all of the more refined dimensions do not have subtle and in some cases more direct effects on us and the instrumentation of our much larger and more structured reality. 
These substances mostly pass on through; with no or little impact and why, given time, the impacts that do occur accumulate and have a collective effect.  This is the subtle effect and why Ormus is called subtle energy.  Ormus Benefit in plants, flowers, vegetables and fruit is well documented.  Beneficial change in human is seen in thermograph images [change in heat], aura images [energy field around the body] and electroencephalograms [brain activity].  Ormus energies are powerful enough to cause an effect but too tiny to be detected, at least easily, by current scientific instruments.   
Ormus has definable natural world physical characteristics and it also has unexplained non-physical characteristics.  [Note: throughout the article, the term non-physical state is used in a general way to indicate anything that is simply outside of our limits to perceive directly, observe and assess; it simply is energy too small or too large for us to measure.] These characteristics are seen during observation and lab assays.  Observations and lab assays point toward Ormus being a something that exists in 2 states of matter: both the physical as seen in the natural physical world and the non-physical, more physically refined, as Not expected to be seen in much larger natural physical world.   
Thus the minerals in Ormus co-exist in some different state called m state. This term, coined by Essene, stands for metaphysical state.  In the m state, minerals do not appear to follow traditional physics, their characteristics even conflict with physics principles being taught for decades.  This state has been known about for a long time by science and its discovery caused quite a stir in the scientific community -although the general public has been largely unaware.  An anomalous different state that is neither liquid, solid or gas, as we know it, was first described in the 1920's by chemist Irving Langmuir.  He called it plasma. Plasma that is dense is called dark matter. Since it is neither liquid, solid or gas it is invisible to lab assay reports. Plasma is a form of refined liquid and responds exactly as described in Pascal's Laws of Hydraulics describing characteristics and the dynamics of all hydraulic, "Liquid" systems. If there is a gaseous state of the m state in Ormus its source would be an even more refined plasma.      
Irving Langmuir's work has opened the door though to a common understanding that there is more to see –which we cannot see. 

Laboratory assay on a sample of material is performed using Atomic emission spectroscopy (AES). This is a method of chemical analysis which uses the wavelength of light that is emitted after heating the sample to high heat.  The wavelength of light determines what elements are in the material.  AES equipment can create heat at the base of the heat source as high as 17,540 Fahrenheit and 14,400 Fahrenheit at the height where the emission is usually measured. The m state form of minerals displayed themselves when the burn time in AES was 300 seconds.  The test was performed in Germany using a specialized machine that could withstand, before its destruction, the high heat for this length of time.  David Hudson had the assay performed and reported on the results. AES in general laboratories are not able to run this long before temperature destroys it. David Hudson's' efforts were an immense gift to the Ormus community. 
So how may we determine that m state form is in the Ormus precipitate? To begin, this state is called a high spin state in the Ormus community; higher spin than the natural physical world state of minerals. 
Actually it is not known what the m state form actually looks like; high spin state is the word coined by David Hudson 
  
During the earlier years, only a specific number of elements, the ones David Hudson focused on, were thought to have this different state.  These were in the middling part of the periodic table.  As time unfolded, more elements were shown to display this form.  Today it is thought that each element in the periodic table probably does contain an m state.  That is, if heated sufficiently the substance will transition to the m State energy level. 
David Hudson mentioned that Sulfur is one material that will bring this state to our natural physical world state.  A test was performed by an Ormus researcher based on his words:  First the Ormus was collected and a sample sent for laboratory analysis, then the precipitate was dried under UV light [another stressor to m state] and a sample of the dried precipitate sent for laboratory analysis.  The dried precipitate was then burned with Sulfur and the burned material was set aside for up to a year.  During this time the dried burned material matured, or in alchemical language allowed time for transformation to occur.  After the given amount of time a sample was sent for analysis.  Comparison showed that the after sulfur burn analysis contained greater quantities, over 100 times the quantity, of the elements analyzed.  So it can be argued that the m state, from the very beginning, was actually in the Ormus precipitate -just in its different state.  Don Nance did the work and shared the Assays.    
David Hudson said that this state of an element is monatomic being one atom sized.  As time went on more folks felt that it may be diatomic, being 2 atom sized, or maybe a few atoms larger than monatomic.  There is no consensus; however more folks are of the opinion that Ormus is not monatomic. 
Besides common curiosity regarding what, how and why, the take away to keep in mind is that Ormus Works. 
Quantum physics recognizes the existence of this different state of matter and that it is a part of all things.  Scientists grapple to devise an agreed accepted name for this new class of material because its origination and mechanism of action is yet to be defined.  Terms that have been used include:  wave particle or wave nature, quantum phenomena, quantum field, scalar field, Ether [aether], quarks, peak shells, cross-linkage, and tachyon.  Others more simply have called this different state the God force, a part of the Zero Point [energy], prana, anu and superlight. 
  
To the Ormus community, the mechanism of action of this new class of materials and its energy field is actually what supports life.  Their truth is that Ormus benefits biological systems as it interacts with or has a correlation with an energy field that surrounds All, as earlier mentioned, called the quantum field, scalar field, Ether….   
Page 8 Ormus Modern Day Alchemy delves further into these thoughts. 
"This unique form of the minerals is thought to be as much as 10,000 times more abundant than elements in their bound and fixed natural physical world state. Analogous to today's stem cell research on undifferentiated cells capable of giving rise to indefinitely more cells of the same type, and from which certain other kinds of cells arise by differentiation, m state can be thought of as the natural vital seed of the elements or what the alchemists called their "First Matter." 
  
While it is exciting to know about Ormus and m state, even desiring to share about this other beneficial state of elements, sometimes termed exotic matter, there is little dialogue within the Ormus community about m state in Ormus.  The hurdle is that since m state's origination and mechanism of action is unidentified there are no commonly known/understood terms to draw upon during conversation.  The media remains silent regarding this unique aspect of elements.  The science community, not yet having understanding about its mechanism of existence or mechanism of action has yet to develop agreed upon vocabulary for either itself -or to share with the general populace.     
Attempts at discussion outside the Ormus community generally result in folks tuning out or being turned off.  Even the concept of a different state of matter is just so far removed from the average person. 
It is up to us, who are aware, to come up with ways to communicate the great news about Ormus to our fellow struggling human brothers and sisters.  One method that has been employed is to demonstrate beneficial change in plants, fruit and vegetables after Ormus 
  
Feel grateful that You had ears to hear -and appreciate everything you can think of as the highest life walks are appreciative ones.   We would have had less opportunity to learn about Ormus if Barry Carter had not become the official Ormus greeter.  Discussion during early Ormus time fielded heated dialogue about whether the knowledge of Ormus should be openly shared or left to those led to the knowledge.  Detractors argue that the Purpose of Ormus energy is to raise the level of conscious awareness towards enlightenment and forward evolution and that folks living malevolent lifestyles, recreational drug use lifestyles and, ego based ones; all being detrimental to themselves and the world, would find Ormus useful for their purposes. And that does occur:  those who use drugs report a longer effect [high, buzz].  This is not what Ormus is here for [reference article: Key reason for Ormus use]. 
Non-physical material properties of Ormus that point towards the presence of a different state of matter are commonly observed during Ormus Wet Process collection.  These observations seem to indicate the presence of a different state of matter –a new class of elements. Because the non-physical characteristics are seen, Ormus is considered a bridging material between Spirit and matter. [Spirit's Greek root word is pneuma; God's power and agency.]   
Non-physical Material anomalous properties examples     
Levitation 
During Ormus collection the precipitate which forms, or a portion of the precipitate, A.K.A doves, flakes or the drop, may resist falling to the bottom of the container.  Perhaps this occurs with every Ormus collection but to a lower degree and hence not visibly noticed.  At times my "Discovery in Action Ormus-Buried in the Ground" requires weeks to fully settle to the bottom.  
The Ormus precipitate may also form into distinct patterns and shapes that are either at the bottom of the container or within the waters of the container. 
The Ormus precipitate also may form two or more distinct layers in the container. The precipitate may rise to the surface leaving topwater below it or the precipitate may float within the middle of the container sandwiched between topwater that is both above and below.  

These events, when seen, are regularly considered a gravity-defying anomaly which many feel points toward the presence of a non physical material property in Ormus that comes from outside the natural world.  There is also a possibility that these occurrences originate from unknown characteristics of material within our own world since no mathematical theory which uses the physics principles of our dimension can detail unknown characteristics of particles within our own reality.   

This characteristic of the material has generally been attributed to Magnetic Levitation.  The earth has a magnetic field as witnessed by the mechanism of action in a compass.  This material in Ormus appears to be repelled by a magnetic field.  Superconductors also display this characteristic.   Superconductors expel magnetic fields and hence repel magnets.  The repulsion can be stronger than gravity which leads to levitation (or a decrease in weight).   
Ormus has displayed some traits that point toward superconductivity such as sometimes levitating.  Therefore it has been thought for a long while that the m state in Ormus may be a type of superconductor.  Barry Carter has shown a video clip of dried ground-up Ormus placed on a sheet of paper which jumped away from a magnet placed under the paper being and being moved in a circular motion. 

Superconductors produce what is called a Meissner Effect.  This is a magnetic field which does not have the traditional north or south polarity and forms when an external magnetic field is applied to it.  One theory about the human body is that it too has this same superconductive process going on from the m state it naturally embodies.  The Meissner field is displayed by what is commonly called the aura. 
David Hudson said during his lectures that there are four papers by the U.S. Naval Research where they have proved the cells communicate with each other by a process identical to superconductivity. But they can't figure out the physical mechanism. 

A small amount of salt is added to the prepared Ormus.  This is thought to form a shielding crystalline structure around the Ormus which helps protect it from the magnetic field of the earth. 

There are detractors to ascribing levitation layers of precipitate and shapes forming to magnetic levitation.  Their case follows.  Imagine a bottle of salad dressing with tons of spices oil and vinegar that is shaken vigorously and then let it set.   Later the oil and vinegar will have separated and the spices dispersed at various levels from top to bottom.  This is due to the specific gravity and energy level of the specific spice.   This is an application of the concept of "Differential Pressure" at work.   Each particle will be pushed by fluid gravity [plasma] until it reaches an area where it has equal pressure on all surfaces internal and external. The layers of Ormus in a suspension are held in place by subatomic plasma and atomic size substances [water molecules and other chemicals in the solution] applying even pressure on equal areas.  They are not held in place or formed by some external magnet field.  The small substances may also have trapped air or they may have internal oscillators.  Ormus researchers have videotaped precipitate substances forced into tetrahedrons by the pressure of the water that begin to spontaneously oscillate. Their research shows Ormus substances do have increased energy.  The internal energy will assist in levitating specific particles to areas in the suspension that afford equal pressures on the surface of the substance.  There it will stay unless according to Newton's law; the particle is acted upon by an unequal force.  If trapped air is causing levitation and shapes to form then stirring should release most of the air and the majority of the particulate should settle to the bottom. 

They point out regarding shapes forming in the precipitate:  Ormus substances contain internal programming of some sort as designated by its internal structure.   A contour of the precipitates substances occurs as a shape from its internal pressure which expresses as an energy field in the area around each particle.   Other particles then align to this energy field and the result is a structure that can be observed. 

See slideshow below for flakes forming, Shapes forming and levitation 
Slideshow-Right, Flakes Forming, Levitation, Shapes
Flakes Forming, Levitation, Shapes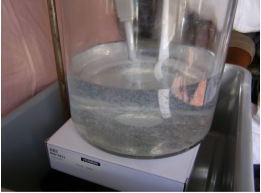 Twinkling/Sparkling -Left
Ormus may twinkle or sparkle as it forms in the container.  this is another observation that hints at a non-physical material property of Ormus, and the presence of a different state of matter.  Photons of light may be being released as m state leaves the Above [firmament] and created in the Below [physically observed world].  In human, a flash of light coincides with a sperm fertilizing the egg, so something energetically does occur when the Above energy Creates in the Below.
Releasing Bubbles
Some times after an Ormus collection is performed and the Ormus has settled at the bottom of the container, it slowly or rapidly releases bubbles. Two postulations have been made regarding this anomaly.  Chemically, some have said oxygen may be being released.  If this is so, might seeing bubbles be a usual common occurrence?  Others say it is Ormus in a gas form being released.  For this reason it is told; persons who collect Ormus themselves have an extra benefit by being present during the Ormus collection.  Another reason for bubbles forming, cited by Ormus researchers, is that part of the bubble effect is from the actual state of the Ormus collector; energetically, spiritually, or mentally.